EVENING ACTIVITIES
The evening schedule is beginning to take shape, but will continue to be refined over the summer. Here's how the after-dinner hours are shaping up (and all this cool stuff is included with your registration!):
Thursday Evening
Icebreakers
It is the first night and you want to get to know people, right? This is your opportunity to learn some interesting things about other people, and find people with similar talents and interests. No ice will be harmed during this event.
Talent Night.
Do you have a hidden talent you'd like to share? Or perhaps one that is not so hidden? Can you sing? Play an instrument? Tell a good joke or two? (This is the Catsklls after all!) If so, we want to hear from you! Email us and let us know, and we will put together a fabulous program.
Campfire
Sing, schmooze, and make s'mores around the evening campfire. Bring guitars, harmonicas, banjo, drums, and other instruments to add to the atmosphere.
Friday Evening
Shabbat Service
Welcome Shabbat with prayer, music, and readings. Both an Egalitarian Service and a smaller Traditional minyan will be held.

HEADLINE EVENT: Catskill Peak Experience" Slideshow with Carol and David White
Come view a slideshow of Catskill Peaks and Trails including Burroughs Range, the Devil's Path, and the Escarpment Trail. David and Carol are authors of the books, "Catskill Day Hikes" and "Catskill Trails," and are considered experts on hikes in this area. They will be available to answer questions about their adventures, Catskill hikes, and the Catskill 3500 Club, founded in 1962 to foster interest in hiking in the Catskills. Books will be available for signing. An event not to be missed!
HEADLINE EVENT: Comedian Harry Freedman
This top-notch comedian, who often opens for Ray Romano, will have you rolling on the floor with laughter. The Catskills resorts were once a hotbed of Jewish comedy acts - and Harry will not disappoint!
Campfire
Sing, schmooze, and make s'mores around the evening campfire.
Saturday Evening
Havdallah
Celebrate the end of Shabbat with this beautiful service.
Council
Council of Delegates Meeting and Mosaic Elections
Workshops
We will have one set of workshops after dinner this year, then reconvene together for a big campfire!
Improv Workshop (Ruthie L.)
Enjoy the fun and creativity of improvisational theater. Basically, it's just fun and games. All levels are welcome. There will be some new, as well-as familiar improv games. In order for everyone to participate fully given the limited amount of time, the ideal number for this workshop is 15 or less. But hurry on over. We'll be laughing.
Country Dance Workshop (Michelle R.)
Come join us to learn a beginner line dance. For those of you who have heard of country line dancing, this workshop is a good introduction. If you can count to eight, you can line dance! The first part of the workshop will start with a beginner line dance called the Canadian Stomp. The second part of the workshop will be the participant's decision. We'll move onto a more intermediate (but not too hard) linedance called The Watermelon Crawl OR we can revisit a partner dance instead called the Cowboy Cha Cha. Hope to see you there!
Compass, GPS, and Orienteering Night Hike (Barry S.)
Imagine that you are in the Woods at Night and Off-Trail. You are dizzy and disoriented. You are almost blind. Your way is blocked by trees and rocks. Your mission: Walk to a destination beyond your sight, and where you have never been. Oh. By the way. Your GPS doesn't seem to be working in the woods. Join Barry on this fascinating night hike that will give you amazing insight into finding your way in the woods. Side benefit: Learn the easy way to get a man to ask for directions. MUST BRING Flashlight or Headlamp, compass, pen or pencil, water, & appropriate weather gear. Suggested: Bring GPS if you have one.
Tentative: Inspirations from Nature around Conflict Resolution: Teachings from John Heider's 'The Tao of Leadership' (Amy-Louise G.)
Discussion on zen and balance in our relationships and inner peace and managing divergent forces.
Tentative: Fearless Presentation Skills (Laura J.)
Overcome presentation jitters! Build credibility by handling audience questions with ease! Most people fear presenting in public more than anything else. Come and learn how to deliver a fearless and persuasive presentation with Expert Presenter Laura Jacob. You'll learn to gain your audience's attention, organize and communicate your ideas clearly and use visual & vocal presentation skills effectively.
Campfire
Sing, schmooze, and make s'mores around the evening campfire.
Sunday Evening
HEADLINE EVENT: An Evening with The Kennedys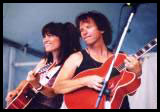 Inspiration is where you find it – and where it finds you. Open to every moment, the much-traveled married duo of Pete and Maura Kennedy have spun their personal experiences, musical influences and philosophical beliefs into ten albums of winsome original songs, frequently seasoned with exquisitely-performed cover tunes, that blend acoustic-based folk, rock, country, pop and secular gospel into an inclusively delightful sound that's all their own.
The Kennedys use their full palette of vocal and instrumental colors to bring their songs to glowing life. Maura's lead vocals range from comforting to yearning, from girlish to womanly, from exuberant to delicate, sometimes bolstered by her own sweet harmonies and those of Pete and several guests. As usual, multi-instrumentalist Pete provides a vibrant tapestry of chiming, jangling and twanging guitars, as well as mandolin, keyboards, bass and drums, interwoven with Maura's sturdy acoustic rhythm guitar, harmonica and glockenspiel.
The Kennedys have recorded CDs that encompass their favorite musical styles while incorporating the naturalistic, transcendental and mythological teachings of Joseph Campbell, Eckhart Tolle, Walt Whitman, and various Eastern-oriented philosophers into their songs and lives. Their goal is to live in the moment, appreciating every second of sensation, which imbues their music with a constant sense of wonder and freshness.
Final Campfire
We'll hang out around the campfire, say our goodbyes and schmooze long into the night.
---
© 2008 Mosaic Outdoor Clubs of America. All rights reserved.