Quick Facts
Who: Mosaic Outdoor Club of Georgia and Mosaic Outdoor Clubs of America
When: Aug 30-Sep 3, 2007
Where: Camp Ramah Darom, Clayton, GA
Why: Fun, of course!
How: Registration is now open. Go to the Registration page and click on the link. But be sure you've read through all the activities listed under Friday, Saturday and Sunday. you'llneed to select your activities at the time of registration! Cost: Regular pricing of $385M/$435NM is in effect through July 31st. (Note that the price reflects the fact that we're at a luxurious retreat center with a full kosher kitchen, and upgraded perks at every turn!) During August, a late fee will increase the price to $435M/$485NM through August 23rd. Absolutely no registrations will be accepted after August 23rd.
The basic event will include hikes of various lengths and difficulty, nature walks, workshops, and a variety of in-camp activities such as swimming, boating, tennis, volleyball, and softball. Nightly programming will include mixers, workshops, concerts, Shabbat under the stars, campfires, and more! All meals are included, as are cabin bunkhouse accommodations.
NOTE: This year's accommodations are top-notch!
Did You Know?
- Rabun County, GA is a temperate rainforest, receiving more than 70 inches of rain each year!

- One of the most spectacular canyons in the eastern U.S., Tallulah Gorge is two miles long and nearly 1,000 feet deep.
About the International Event
Often described as "summer camp for adults," Mosaic Outdoor Clubs of America presents the annual Labor Day weekend retreat that allows Jewish adults with a love of the outdoors to get "back to nature" and have some fun!
2007 MOSAIC INTERNATIONAL EVENT
Hiking
Kayaking
Rafting
Tubing
Mt. Biking
Rappelling
Segway Tours
Swimming
Nature Walks
Winery Tours
Galleries
Natural Wonders
Gem Hunting
YOU
SAVE THE DATES!
Visit Georgia's Gorgeous Gorges
Aug 30-Sep 3, 2007!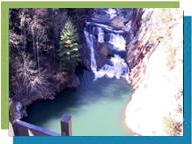 Come to the beautiful North Georgia Mountainsfor MOCA's 17th Annual International Event! From our luxurious base camp at Ramah Darom, we'll be just a short distance from many of Georgia's gorgeous gorges, including the famed Tallulah Gorge and many, many more! There are more than 10 substantial waterfalls within an hour or so of camp, and the area is lush with vegetation.
Ramah Darom - (a.k.a. "spa Ramah")
This year, we're in for a real treat! We've upgraded to an actual Retreat Center with a full kosher kitchen! The luxurious cabins are newly constructed, and the dining hall is air conditioned! On top of that, there is a full fitness facility onsite, large pool, tennis courts, boating on a small lake, softball field, ropes courses, and much more. There is even a gorgeous waterfall just a short walk away. We're so excited about sharing the North Georgia and nearby North/South Carolina mountains with you from our spectacular base of operations at the luxurious Ramah Darom retreat center.
Daytime

We have visited lots of great sites, and pulled together the best of the best for you to sample, including great hiking, kayaking, whitewater rafting, tubing, biking, rapelling, segway tours, trail rides, nature walks, and lots of great tours of museums, galleries, historical sites, natural wonders and more. We have even got a trip to a ruby and sapphire mine where you can hunt for your own gem-quality stones! We guarantee you will not get bored!
Nighttime

After the sun goes down, we will mingle and schmooze, learn new things, celebrate Shabbat, dance, and listen to some great music!. On Saturday night, we'll learn some local dances, Israeli dances, contra dances and much more with caller and educator Diane Silver, and some live musicians from Asheville, NC.
This is gonna be one great trip!
VISIT GEORGIA'S GORGEOUS GORGES THIS LABOR DAY WEEKEND!
Waterfalls, y'all!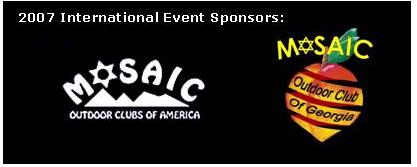 About MOCA
Mosaic Outdoor Clubs of America (MOCA) is a non-profit organization focused on bring Jewish Adults together where they can experience and explore the outdoors and the Jewish experience, history and background in environments that promote Jewish learning, continuity and community. Mosaic has more than 20 clubs in the United States, Canada and Israel. Learn more by visiting us at www.mosaicoutdoor.org
About Mosaic Outdoor Club of Georgia
Mosaic Outdoor Club of Georgia is a nonprofit organization dedicated to organizing outdoor, active, and environmental activities for Jewish adults. Mosaic serves Jews of all ages, both married and single, who share a love for nature and the outdoors. Join us for hiking, biking, camping, canoeing, rock climbing, backpacking, skiing, rollerblading, skating, volleyball, and more!!! Non-members are always welcome to join us for our events. Learn more by visiting us at www.mosaicga.com
---
© 2007 Mosaic Outdoor Clubs of America. All rights reserved.