SATURDAY DAYTIME ACTIVITIES
FULL DAY ACTIVITIES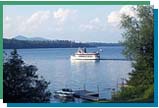 ARTS & HISTORY TRACK I [Pre-Paid Add-On]: Visit Adirondack Museum and Cruise Raquette Lake. Have you ever seen a canoe you could camp in, a snow roller and whiffletree, or a bed with bark? How about a bee made of garnet, a printing press for menus, or a glass walking cane? What do these things have in common? They're all at the Adirondack Museum, all part of the history and culture of the Adirondack region. The Museum has been compared to the Smithsonian -- having 23 separate museum exhibits and separate historic structures set on a thirty-two acre landscaped site overlooking Blue Mountain Lake. Exhibits at the range from an entire building devoted to water transportation in the region (Boats and Boating in the Adirondacks) to Sunset Cottage, a one-room building covered entirely with split-wood decorative patterns, the epitome of Adirondack Rustic architecture. After spending the morning exploring, we'll head down the street to catch the 1.5-hour afternoon scenic cruise on Raquette Lake aboard the W.W. Durant. Cost: $30 (Includes museum admission, cruise, and transportation.) Limit 35 people. Drive time from camp: 75 minutes.

ARTS & HISTORY TRACK II [Pre-Paid Add-On]: Historic Upper Hudson River Railroad tour from North Creek Station to Riparius and back; lunch in historic North Creek Village, and Scenic Gondola ride to the top of Gore Mountain. Trains board from the restored platforms of the North Creek Depot and Freight House. On the station platform, the North Creek Depot Museum displays artifacts of our region's history. Exhibits recount the history of skiing and the excitement of the ski train; Teddy Roosevelt's famous night ride to the presidency, and intriguing nuggets of local history. After a scenic ride through the countryside, we'll reach Riverside Station in the hamlet of Riparius where you'll enjoy a 30-min. layover. While there you can explore the Historic displays or walk through Riverside Park. After the return to North Creek, we'll eat our lunches (or buy lunch in town) then we'll head to Gore mountain where the gondola ride offers views of High Peaks and Southern Adirondacks. Cost: $28 (Includes train and gondola passes and transportation.) Limit 15 people. Drive time from camp: 40 minutes.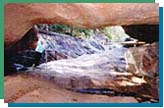 ROCKS & GORGES TRACK I [Pre-Paid Add-On]: Visit Natural Stone Bridges and Caves and Barton Garnet Mines. During the last ice age, an unusual East/West fault exposed the ancient rock to the violent waters from the retreating Wisconsin glaciers. The resulting Stone Bridge appears to be the largest natural marble cave entrance in the Northeast and the caves are in the process of being surveyed. Today's visitors use a descriptive map and follow well marked trails to see Trout Brook cascade through unusual rock formations before plunging beneath historic Ponte de Dios (Bridge of God). Five Hundred feet downstream, it emerges into Artist's Gorge through several caves, including: Echo Cave, Garnet Cave, and the Cave of the Lost Pool. Our next stop will be Barton Garnet Mines, one of the world's largest garnet deposits. We'll take the hourly tour and learn about the history, geology, and present day operations of the mines and how to find our own gemstones. We'll see gem cutting demonstrations search for our own gem quality garnets. Cost: $24 (Includes admission to both attractions and transportation.) Limit 15 people. Drive time from camp: 40 minutes.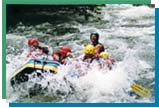 BOAT & FLOAT TRACK I [Pre-Paid Add-On]: Whitewater Rafting on the Hudson River. Come experience the Hudson River Gorge, 17 miles of action packed adventure on Class III+ rapids. Paddle through remote Adirondack wilderness, enjoying a scenic trip (gorges, cliffs, wildlife) known as one of the best for continuous stretches of raftable whitewater. Enjoy a hearty riverside lunch. Share stories and local lore with your professional raft guide. Scream with exhilaration in big spring whitewater or hop in for a swim in warm summertime. Our raft trips take 3-4 hours on the river and include a riverside lunch. Work together with our experienced, licensed guides for wet fun and excitement through 22 named rapids, like the Narrows, Carters Landing and Greyhound Bus Stop. All you need is a bathing suit, sunscreen, footwear for the river and an adventurous attitude. Cost: $60 (Includes all equipment, riverside lunch, instruction, guides and transportation. Guide gratuity not included.) Limit 40 people. Drive time from camp: 40 minutes.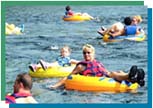 BOAT & FLOAT TRACK II [Pre-Paid Add-On]: Flatwater Tubing on the Hudson River. Flatwater Tubing on the Hudson River. Lazy river tubing is an easy, fun, and relaxing water activity. An average depth of 3 feet, crystal clean warm water, a sandy pebble-laced bottom and a friendly current makes for ideal river tubing rain or shine. Enjoy our awesome swim spot with our friendly guides during your trip. Sit back and relax your way down the historic Hudson River Preserve. Enjoy the Adirondacks from this scenic perspective. You'll be on the water approximately 4 hours. Cost: $25 (includes river tube, life jacket, guide and shuttle service and transportation from camp.) Limit 15 people. Drive time from camp: 45-50 minutes.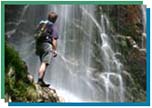 EASY HIKE TRACK I [Pre-Paid Add-On]: Guided Nature Trek on Whiteface Mountain then drive up the Whiteface Memorial Highway. ***Cancelled*** A 1.5 hour guided hike in the Whiteface forest along the Ausable River and down the West Branch / Stag Brook Falls trail. Trek includes gondola ride (Spectacular views of Lake Placid and High Peaks) and picnic lunch. Ride the newest gondola in North America. The 8-passenger Cloudsplitter Gondola takes you from the base lodge to the top of Little Whiteface in less than fifteen minutes, over ski trails, wooded areas and scenic overlooks with breathtaking views of the Ausable River, the Adirondack High Peaks and the MacKenzie-Intervale Ski Jumping Complex. At the summit (3676'), an observation deck and picnic tables await. Bring layers. It sometimes snows on summit even in summer. Then back to the van and an eight-mile drive from the crossroads in Wilmington up the Whiteface Mountain Veterans Memorial Highway to another summit. The last five miles are the most spectacular as the road winds upward through a changing forest and an alpine summit environment. At the summit parking area, take a short hike to the very top or hop on the in-mountain elevator for a truly amazing 360-degree view of the surrounding wilderness. Cost: $32 (Includes guided hike, gondola ride, lunch, highway fee and transportation. Guide gratuity not included.) Limit 15 people. Drive time from camp: 75 minutes. NOTE: This activity has been cancelled due to lack of interest.
MODERATE HIKE TRACK I [Included]: Hike from Camp to Lily Pond and Round Pond. For those who prefer not to drive or ride on Shabbat, this hike will leave late morning from camp. Although the first mile of the hike is along private property that is not very scenic (we have permission to hike here), as soon as you cross the gate into parkland, the vegetation becomes far more interesting and pretty. About a mile past the gate, you'll come to Lily Pond. Another mile or so down the path you'll get to Round Pond. After a short rest, retrace your steps back to camp. Total hike length is approximately 6.5 miles. Elevation change is approximately 500' each way, but that mostly consist of gradual ups and downs. Hike would be considered mostly flat with some gradual inclines. Limit 15 people.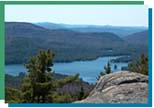 MODERATE HIKE TRACK II [Included]: Canoe/Hike or just Hike to Treadway Mountain. Again, something a bit different. This 7.8-mile Moderate hike around Putnam Pond and up Treadway Mountain can be shortened to a 5-mile hike by canoeing across the pond! The hike itself is rewarding with outstanding views along the way and from the three knobs that form the open rocky summit. What has worked really well in the past is that the group splits up, and those who prefer to hike only meet the canoeists on the opposite side of Putnam Pond. Timing works out nearly perfectly! Canoes are available to rent at Putnam Pond for a nominal fee. Elevation gain is approximately 900' on the climb; so 1800' of elevation change round trip. Limit 15 people. Drive time from camp: 40 minutes

MODERATE HIKE TRACK III [Included]: Hike Crane Mountain. ***SOLD OUT*** Perhaps the best hike in the Adirondacks, Crane provides plenty of variety in its 5 mile loop trail. Work up a sweat on the summit trail, climb a 30' ladder through the last barrier to the top and take in the magnificent view while catching your breath. Head down along the cliff ridge, with several more good vantage points along the way, down to Crane Mt. Pond. Swim, fish, or relax again. Continue down to the base of the mountain, looking down on the old Putnam farm as you descend, then peer in to the cave that passes under the trail. Finish up on the old Putnam Road as it returns to the parking lot. Note: The first 1.5 mile of this trail are easy then it climbs 700 feet in .5 mile. To reach the peak, you will have to climb 6 foot and 15 foot ladders. Limit 15 people. Drive time from camp: 25-30 minutes. This is a repeat of Friday's hike. NOTE: This activity is now SOLD OUT and you can no longer register for it.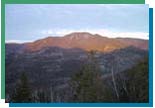 STRENUOUS HIKE TRACK I [Included]: Hike Noonmark Mountain. Don't let the length of this hike fool you. Although it is only 5 miles round trip from the parking lot, the trail ascends steeply, climbing 2175 feet over approximately 2 miles. Pace is only one mile per hour, and allow yourself plenty of rest (and bring lots of water!). From the summit there is an unobstructed view in all directions, dominated by the Great Range to the W, the Dix Range to the S, and Giant to the NE. This is High Peaks hiking at its best -- lots of hard work for impressive rewards. Limit 12 people. Driving distance from camp: 55 minutes.

STRENUOUS HIKE TRACK II [Included]: Hike Peaked Mountain. The trail to Peaked Mt. Pond offers a day hike that's about as perfect as it gets. Seldom does so much variety occur in such a short distance. The beginning of the trail hugs the edge of Thirteenth Lake. When Peaked Mountain Brook enters Thirteenth Lake at 0.8 mi., the trail follows the brook upstream, making several brook crossings. Beaver activity is evident in places. At 2.9 mi., the trail reaches the shore of Peaked Mt Pond. Until this point, the trail has been steady and pleasant. The remaining ascent to the summit is far more rugged and very steep in places. The actual summit of Peaked Mountain sits at 2919 feet (about 670 feet above the pond (photo is from pond during winter) and about 1250 feet about Thirteenth Lake). It is very steep sided which affords great views of the surrounding area. Summit views are sensational. Total ascent 1245', more than half of that in the last 0.4 mile. Return by re-tracing your path. Total hike length is about 6.5 miles. Thirteenth Lake is a great place for a swim at the end of the hike! Limit 12 people. Driving distance from camp: 40 minutes.
HALF-DAY MORNING ACTIVITIES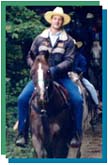 ADVENTURE TRACK I [Pre-Paid Add-On]: Horseback Trail Ride on Beech Mountain. ***Cancelled*** This is an Adirondack adventure that you will never forget. Take a guided 2+ hour trail ride that winds its way through wooded trails and brings you to the top of Beech Mountain where you will dismount and enjoy a spectacular view overlooking the Adirondack Mountains, Lake George and Lake Vanare. Then you'll saddle back up for the return trip. Don't forget to bring your camera! Cost: $53 (includes guided trail ride, all gear (helmets optional), and transportation from camp. Does not include guide gratuities.) Limit 15 people. Drive time from camp: 45-50 minutes. NOTE: This activity has been cancelled due to lack of interest, however the rides on Friday and Sunday are still going out.

EASY HIKE TRACK II [Pre-Paid Add-On]: Nature Program and Walk at Up Yonda Farm: Wildflowers and Ferns. When we arrive, we'll hike up to the overlook of Lake George on the 1.5-mile loop trail. Then we'll join the scheduled program for a guided hike:, "Often overlooked and under appreciated, ferns are a beautiful and diverse group of plants. We'll explore the property and learn how to identify some of them, as well as other local flora." Cost: $5 (includes program admission and transportation Limit 15 people. Drive time from camp: 35 minutes.
SCENIC TOUR TRACK I [Pre-Paid Add-On]: Scenic Gondola Ride up Gore Mountain Not really Arts & History; not really a hike; this activity warranted its own category! We'll head over to Gore Mountain to ride the Scenic Gondola. At the top, relax on the large deck overlooking the mountains, or walk a bit on the trail system. Cost: $12 (includes gondola ride and transportation from camp.) Limit 15 people. Drive time from camp: 40 minutes.
CAMP ACTIVITIES TRACK I [Included]: Mountain Biking. Easy to Moderate Mountain Biking on the trails around camp. Bike and helmet will be provided. Limit 15 people.
CAMP ACTIVITIES TRACK II [Included]: Boating on Brant Lake. The camp has sailboats, canoes, and kayaks available. Limited only by number of boats available, and there are plenty.
HALF-DAY AFTERNOON ACTIVITIES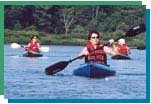 BOAT & FLOAT TRACK III [Pre-Paid Add-On]: Half-Day Canoe or Kayak on Hudson River. Canoe or kayak on one of the most scenic stretches of the Upper Hudson River. It takes about 1.5 hours to paddle this 5.5-mile stretch; but it can take longer if relaxing, swimming, or if water levels are low.... With just the right amount of current to make it fun, this is a great trip for the first timer or experienced paddlers Cost: $18 (includes equipment, PFD, shuttle and transportation.) Limit 15 people. Drive time from camp: 35 minutes.
ADVENTURE TRACK II [Included]: Intermediate Road Biking from Camp. Details TBD. Bring your own bike, as we have been unable to locate a vendor for road bikes in the area. Helmet required. Limit 20 people.

EASY HIKE TRACK I [Included]: Walk the Grandmother's Tree Nature Trail and the Warrensburg Nature Trail. We'll start by visiting the one-mile "Grandmother's Tree Nature Trail" in Pack Demonstration Forest. This trail meanders through a beautiful hemlock and white pine old growth forest culminating with the Grandmothers Tree" dating from the 1600s. Then we'll jump in the van for a short trip over to the Warrensburg Nature trail system. The trail starts heads a short way to the Hudson River, then parallels the river to a great rock outcropping. If you look closely, you'll see many mineral veins in these rocks, including quartz crystals and garnets! The loop trail heads away from the river and climbs a bit; the rest of the walk is a bit hilly through forest terrain. Total loop is approximately 1.4 miles, for a combined walk of approximately 2.4 miles over the course of the morning. Limit 15 people. Drive time from camp: 30 minutes.

ADVENTURE TRACK III [Pre-Paid Add-On]: Mountain Biking at Garnet Hill The cross country ski trails, old roads, and single track bike trails combine for a great variety of Mountain Bike adventures at Garnet Hill in the Adirondacks of New York. Rental bikes are available and there is varied terrain for all skill levels. Cost: $32 (includes bike rental, trail fee and transportation.) Limit 15 people. Drive time from camp: 40 minutes.
CAMP ACTIVITIES TRACK I [Included]: Swimming in Brant Lake. Hang out at the beach, on the docks, or go for a swim. Unlimited.
---
© 2006 Mosaic Outdoor Clubs of America. All rights reserved.