Quick Facts
Who: Mosaic Outdoor Clubs of America
When: Aug 31-Sep 4, 2006
Where: Brant Lake Camp, Brant Lake, NY
Why: Fun, of course!
How: Sadly, Registration closed on midnight, August 18th. We'll see you in 2007!
Cost: $365M/$415NM
The basic event price of $365M/$415NM includes hikes of various lengths and difficulty, nature walks, workshops, and a variety of in-camp activities such as swimming, boating (sailboats, kayaks and canoes) tennis, volleyball, and softball. Nightly programming will include mixers, workshops, concerts, Shabbat under the stars, campfires, and more! All meals are included, as are cabin bunkhouse accommodations.
NOTE: Event price will increase to $415M/$465NM on August 4th, so Register Early!
Did You Know?
- The Adirondacks are the only major mountain range surrounded by water.
- The "Chai Peaks" area has plentiful lakes, rivers, ponds, and streams as well as mountainous hiking routes.
- Aliyah in Hebrew means ascent or going up?!
About Mosaic
Often described as "summer camp for adults," Mosaic Outdoor Clubs of America presents the annual Labor Day weekend retreat that allows Jewish adults with a love of the outdoors to get "back to nature" and have some fun!
2006 Mosaic International Event
Hiking
Kayaking
Tubing
Caving
Nature Walks
Museums
Gem Hunting
Canoeing
Whitewater Rafting
Biking
Rock Climbing
Lake Cruises
Natural Wonders
YOU
Join the Adirondak Aliyah!

Come up to the beautiful Adirondack Mountains of New York State for MOCA's 16th Annual International Event -- the Adirondack Aliyah! At our hillside location on the shores of Brant Lake, we ll be near Lake George, the Hudson River, the High, er "Chai"(!), Peaks, and many beautiful places within Adirondack State Park.
Daytime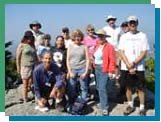 This area has waaayyyy too many activities to choose from! We ve pulled together the best of the best for you to sample, including great hiking,canoeing, kayaking, whitewater rafting, tubing, biking, caving, rock climbing, trail rides, nature walks, lake cruises, and lots of great tours of museums, galleries, historical sites, natural wonders and more. We ve even got a trip to a garnet mine where you can hunt for your own gem-quality stone! We guarantee you won t get bored!
Nighttime

After the sun goes down, we ll mingle and schmooze, learn new things, celebrate Shabbat,enjoy a photographic exploration of the Adirondacks by local scenery photographer Carl Heilman, and enjoy the folk music stylings of our Saturday night headliners -- local legends Peggy Lynn and Dan Berggren. For those of you who d prefer to get out and about on Saturday night, there are a limited number of spots available for a visit to the Painted Pony Rodeo and a few spots open for a moonlight cruise on Lake George.
This is gonna' be one great trip!
SO WHAT ARE YOU WAITING FOR?
COME ON UP AND MAKE YOUR ALIYAH TO THE ADIRONDACKS THIS LABOR DAY WEEKEND!
---
© 2006 Mosaic Outdoor Clubs of America. All rights reserved.