2005 Mosaic International Event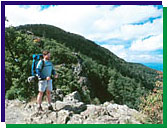 Join us in the beautiful Shenandoah mountains of Virginia for a foot-stompin good time at our 15th Annual International Event! In our stunning location on the side of Massanutten mountain, we ll be near the beautiful waterfalls and varied terrain of Shenandoah National Park as well as the pristine wilderness of the George Washington National Forest.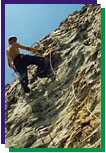 Kick up your heels and join us for a shindig like no other! During the day our hikers will climb mountains and ford streams; our adventure-seekers will try biking, grass skiing, wild caving, rock climbing, river tubing, horseback riding, mountain biking, canoeing, and SCUBA; and our tourists will visit wineries, galleries, historical sites, and more! At night, we ll mingle and schmooze, learn new things, celebrate Shabbat, and listen to music under the stars. Our Saturday night headliners, Mando Mafia (www.mandomafia.com) will entertain and delight with their masterful mandolin music in the Camp Horizons outdoor amphitheater.
Often described as "summer camp for adults," Mosaic Outdoor Clubs of America presents the annual Labor Day weekend retreat that allows Jewish adults with a love of the outdoors to get "back to nature" and have some fun! This year we re kicking things up a notch with more hikes, more tours, and more new adventures of all types with folks from all across the US and Canada!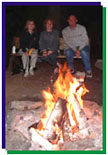 The basic event price includes hikes of various lengths and difficulty, mountain biking, horseback riding, high ropes courses, nature walks, workshops, and a variety of in-camp activities such as swimming, tennis, volleyball, and softball. Nightly programming will include mixers, workshops, concerts, Shabbat under the stars, campfires, and more! All meals are included, as are cabin bunkhouse accommodations. For those desiring more luxurious accommodations, we have roommate triples at the Mountain Valley Inn on camp property.

If you're interested in even more challenge and adventure, we're offering pre-paid add-ons of rock climbing, grass skiing, wild caving, Via Ferrata, river tubing, river canoeing, SCUBA lessons, and many half-day and full-day trips including winery tours, caverns tours, historical tours, and even a Shenandoah Shakespeare matinee production! New this year, we'll be participating in a river clean-up project along the James River, so we can give a little back and help protect our environment. Details on all of these activities and more can be found on the "Daytime Activities" pages.

Finally, if you can't get enough of these great adventures, we are offering a

Pre-Tour of Washington, DC on August 31-September 1, and an amazing whitewater rafting Post-Tour on the New River in Hico, WV, September 5-7!

SO WHAT ARE YOU WAITING FOR?
GET OFF YER ROCKER THIS LABOR DAY WEEKEND AND SHAKE IT UP AT THE MOSAIC SHENANDOAH SHINDIG!



---
© 2005 Mosaic Outdoor Clubs of America. All rights reserved.