2004 Mosaic International Event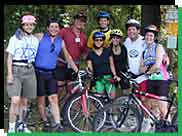 oin us on an adventure FAR, FAR AWAY, as we head to the Berkshires for our 14th International Event! In this enchanted land, we'll ride HORSES and LLAMAS, raft the exciting DEERFIELD RIVER, climb the towering MOUNT GREYLOCK, and travel back in time to visit OLD STURBRIDGE VILLAGE! Our adventure also includes plenty of FOREST HIKES, moat crossings by CANOE, and visits to local CASTLES and COTTAGES!



ften described as "summer camp for Adults," Mosaic Outdoor Clubs of America presents our annual Labor Day weekend retreat that allows Jewish Adults with a love of the outdoors to get "back to nature" and HAVE SOME FUN! Since this is an Olympic year, we're SUPERSIZING our event to Olympic proportions! More RAFT TRIPS, more HIKES, more TOURS, and more adventures of all types with folks from all across the US and Canada!
With a summer camp as our home base and the nice Jewish ogre "Shecky" as our guide (that's him above with the sign!) we'll explore the Berkshires of Western Massachusetts. The area offers an amazing selection of outdoor activities as well as some really interesting cultural and historic landmarks.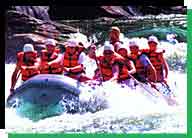 he basic event price includes hikes of various lengths and difficulty, rails to trails biking, nature walks, and canoeing on picturesque lakes in the area. Nightly programming will include campfires, singing, workshops, and possibly our own team "Olympic" games! All meals are included, as are cabin bunkhouse accommodations.

If you're interested in even more challenge and adventure, we're offering add-ons of two whitewater raft trips, rock climbing, horseback riding, kayak trips, and three different historical tours including the Norman Rockwell Museum and Old Sturbridge Village! Details on ALL of these activities and more can be found on the "Activities" page.
Finally, if you can't get enough of these great adventures, we are offering a PRE-TOUR of Boston on September 1-2!

DON'T STAY AT HOME IN YOUR SWAMP THIS LABOR DAY WEEKEND!
TRAVEL WITH US TO A PLACE FAR, FAR AWAY!
---
© 2004 Mosaic Outdoor Clubs of America. All rights reserved.